Welcome Aboard the U.S.S. Essex!
The Federation Starship U.S.S. Essex NX-7101-A is Star Trek RPG/fan club currently located in Idaho Falls, Idaho.

Originally founded in 1986, Essex was recommissioned on 15 March 2014 as a chapter of Starfleet Command's Seventh Fleet.

"Patrolling" the South Eastern Idaho area, Essex's mission is to:

*To keep the Star Trek dream alive. That through infinite diversity in infinite combination life is worth while.
*To bring together families and make new friends, by having fun with those who share our same interests.
*To make our future a better place by improving ourselves and serving our friends, neighbors and community.

As a chapter of Starfleet Command's Seventh Fleet, Essex is a family of Star Trek friends- not fanatics. Our main goal is to develop new friendships and to help our communities in the spirit of the 24th Century.


Our chapter is set up along the lines of a starship as seen on the various Star Trek series- but the only real ships involved are friendships. Membership is open to all without regard to gender, race, religion, age or lifestyles. Families usually encompass the majority of our membership.
Essex
meets on a local level for table- top roleplaying, various activities, community service, and just plain fun. We often hold joint activities with other Seventh Fleet chapters and other organizations. Information on the Seventh Fleet and other Seventh Fleet chapters can be found in the Links Section of the Website.
Essex- and the Seventh Fleet- will never charge any dues for membership.
This means that if a chapter visits a museum, the crewmember pays their own admission fee, or provides their own equipment for a paintball competition, etc. Paying your own way is one of the fundamentals of the Seventh Fleet. There may be basic items for sale (t-shirts, newsletters, badges, handbooks) however these charges only cover the development cost for these items."
"Stand Firm and Be Faithful and True"
Latest News Items
Posted on Sat Aug 6, 2016 @ 10:57pm by Captain Selek tr'Kierahn in General News
Congratulations to Lieutenant Commander Russell Boltz (our former Exec) on the launching of PCU Protecteur NCC-10007.

The Protecteur is a Hyperion class fast support cruiser with extended storage and bunkerage and a complement of Starfleet Marines and a special Tiger Team from the Starfleet Corps of Engineers.

Good luck and smooth sailing to PCU Protecteur!!


Posted on Sat Aug 6, 2016 @ 10:18pm by Captain Selek tr'Kierahn in General News
All Hands!

As of August 1, 2016 Essex has shifted her patrol area from Bountiful, Utah to Idaho Falls, Idaho.

As most of the senior staff has transferred to the newly christened PCU Protecteur, Essex will be refitting and re-crewing for her duties in Southeastern Idaho.

If interested in joining, please contact:

Captain Roger Taylor
selek@yahoo.com
co@starshipessex.com

or

385-645-0328
Posted on Sun Oct 5, 2014 @ 12:03am by Lieutenant Commander S'rranna in General News
Officers and crew of the USS Essex:

Today we lost a dear friend and leader in Captain Rex Rouviere.

All events are canceled until further notice as we turn our thoughts, prayers, and energy towards supporting his family and friends.


Posted on Wed Jul 30, 2014 @ 10:37pm by Captain Selek tr'Kierahn in General News
Tonight we hosted our commissioning dinner, celebrating (but not marking) our promotion to full chapter of the Seventh Fleet.
We were awarded both our commissioning plaque and our "spirit guide" -the Mountain Lion.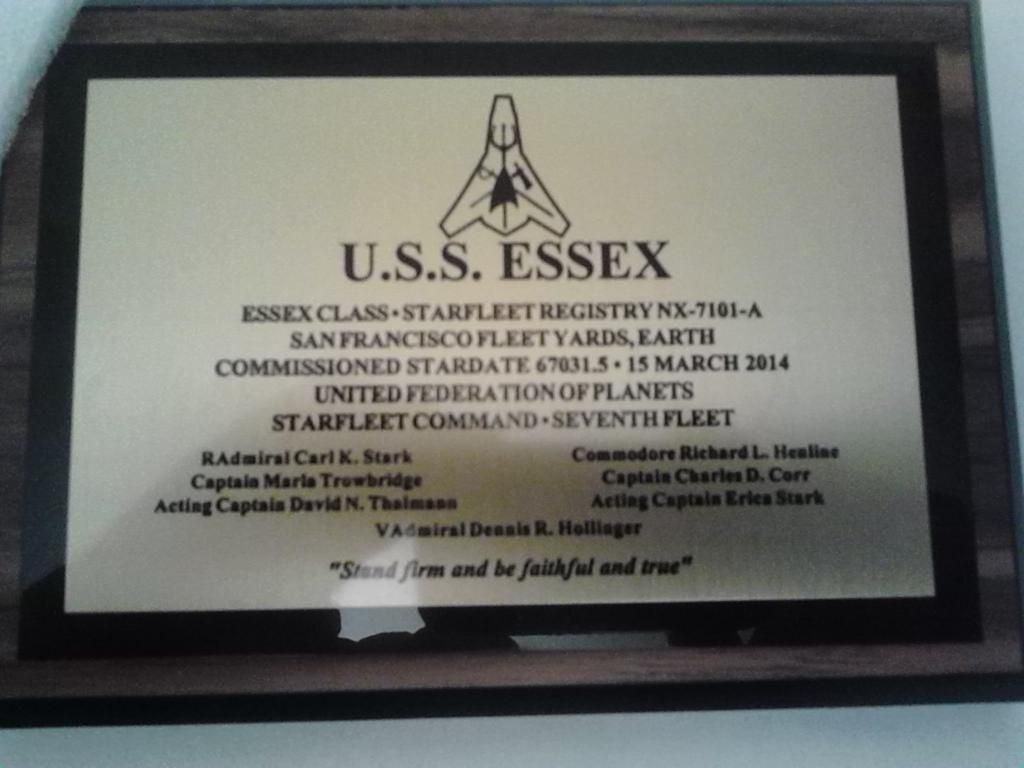 I want to thank all of those members of the Essex family who made this event possible, and those who worked and provided so much to make tonight a success.

Those Essex crew who could not attend tonight need to know that you were there in our thoughts and hearts.

Thank you for all you do...

Bravo Zulu, Essex !

Captain Roger Taylor
Commanding Officer,
USS Essex NX-7101-A
Posted on Sat Mar 15, 2014 @ 9:20pm by Captain Selek tr'Kierahn in General News
All Hands, this is the Captain:

As of today, 15 March 2014, Essex and her crew have achieved yet another major milestone- her full commissioning as a chapter of the Seventh Fleet.

Congratulations to all hands, and thank you for your hardwork over the last fourteen months.

Bravo Zulu, Essex!!!